اجهزه بصمه الوجه كورى
Suprema Face Devices
حضور وانصراف بالوجه صناعه كوريه جوده عاليه
الموديلات :
FaceStation 2 offers a massive memory capacity to manage largest number of users in its class. A single unit of FaceStation 2 can accommodate up to 30,000 users, 50,000 face image logs and 5,000,000 text logs.
All Lighting Conditions Confidence
With Suprema's patented IR illumination and optical technique, FaceStation 2 now achieves operating illuminance of up to 25,000 lx, about 5 times brighter than industry average. At 25,000 lx, FaceStation 2 allows uninterrupted face recognition regardless of all possible indoor lighting conditions as well as outdoor installations unless exposed on direct sunlight.
Enhanced Security Features
Infra-red based fake face blocking technology
(Live Face Detection)
Multi-band RF reading technology supporting latest RFID standards
High quality face image logs
Improved Ergonomics for Greater Height Range

FaceStation 2 allows the greatest height range of 145cm ~ 210cm. With optional tilt-bracket, FaceStation 2 also accommodate wheelchaired persons and children.
Android-based Intuitive GUI

On its wide touchscreen LCD, FaceStation 2 offers industry's most intuitive graphic user interface. Thanks to the latest Android 5.0 OS, FaceStation 2 features latest material design concept to provide extremely easy to use GUI requiring near-zero training for both users and system administrators.
Temperature Detection

FaceStation 2 can be combined with Suprema Thermal Camera to detect users with elevated skin temperature. FaceStation 2 with Suprema Thermal Camera measures skin temperature of users passing the access point and limit the access of users with a higher temperature than preset threshold. It provides an easy connection via USB making deployment quick on new and retrofit installs.
Configuration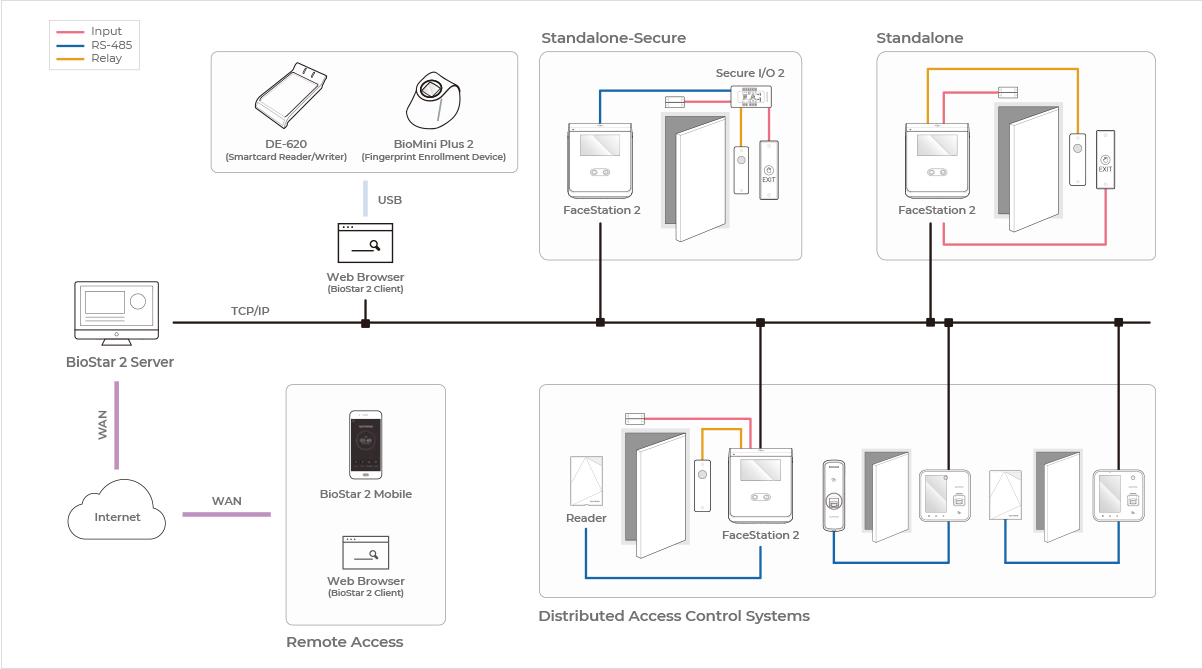 Specification
Scroll left/right

Scroll left/right
Model Name
Ingress Protection

Vandal Proof
Template

Extractor / Matcher

Live Face Detection
Users (1:1)* Based on one face enrollment per user

Users (1:N)* Based on one face enrollment per user

Max. Face per User

Text Log

Image Log
CPU

Memory

LCD Type

Sound

Operating Temperature

Storage Temperature

Operating Humidity

Storage Humidity

Weight

Dimension (WxHxD, mm)

Tamper
Wi-Fi

Ethernet

RS-485

Wiegand

TTL Input

Relay

USB

SD Card

PoE

Intercom
FS2-D
125kHz EM & 13.56Mhz MIFARE, MIFARE Plus, DESFire/EV1, FeliCa
NFC
Not supported
Not supported
SUPREMA
SUPREMA
Supported
30,000
4,000
5
5,000,000
50,000
1.4 GHz Quad Core
8GB Flash + 1GB RAM
4" color TFT LCD
24 bit Voice DSP (echo cancellation)
-20°C ~ 50°C (-68°F ~ 122°F)
-40°C ~ 70°C (-104°F ~ 158°F)
0% ~ 80%, non-condensing
0% ~ 90%, non-condensing
Device: 548g Bracket: 74g (Including washer and bolt)
141 x 164 x 125
Supported
Not supported
10/100/1000 Mbps, auto MDI/MDI-X
1ch Host or Slave (Selectable)
1ch Input, 1ch Output
2ch Inputs
1 Relay
USB 2.0 (Host)
Not supported
Not supported
Supported
DC 24 V
FS2-AWB
125kHz EM, HID Prox & 13.56Mhz MIFARE, MIFARE Plus, DESFire/EV1, FeliCa, iCLASS SE/SR/Seos
NFC, BLE
Not supported
Not supported
SUPREMA
SUPREMA
Supported
30,000
4,000
5
5,000,000
50,000
1.4 GHz Quad Core
8GB Flash + 1GB RAM
4" color TFT LCD
24 bit Voice DSP (echo cancellation)
-20°C ~ 50°C (-68°F ~ 122°F)
-40°C ~ 70°C (-104°F ~ 158°F)
0% ~ 80%, non-condensing
0% ~ 90%, non-condensing
Device: 548g Bracket: 74g (Including washer and bolt)
141 x 164 x 125
Supported
Built-in, IEEE 802.11 b/g
10/100/1000 Mbps, auto MDI/MDI-X
1ch Host or Slave (Selectable)
1ch Input, 1ch Output
2ch Inputs
1 Relay
USB 2.0 (Host)
Not supported
Not supported
Supported
DC 24 V
Accessory
Power Adapter

Tilting Bracket
Peripheral Device
Download
Manual

FaceStation 2 UG V1.19 EN

5.09 MB

Manual

FaceStation 2 IG V1.22 EN

5.06 MB

Firmware

FaceStation 2 Firmware V1.4.0 EN

199.90 MB

Manual

FaceStation 2 Thermal Camera SG v1.0 EN

3.18 MB

Product Images

FaceStation 2 Image (Low Res)

38.66 MB

Product Images

FaceStation 2 Image (High Res)

228.91 MB

Manual

FaceStation 2 Drilling Template EN

370.29 KB

Brochures

FaceStation 2 Brochure

1.27 MB
Video